Volvo (Hartshorne Group) Donate a De-Fib to our Site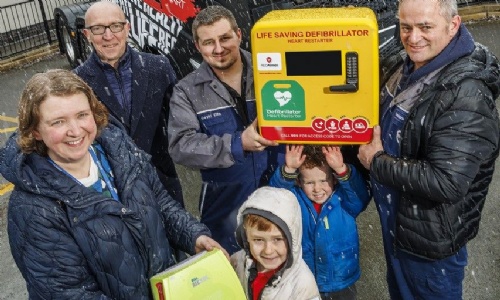 A special delivery on a snowy day!
Our school is the latest to benefit from a Healthy Heart Campaign by staff at a company in Shrewsbury.
Children at Long Mountain C of E Primary School and Pre School received a heart defibrillator donated by Hartshorne Group, which is raising funds to install the medical devices in the community.
Defibrillators can be used to restart a person's heart in an emergency and come equipped with voice instructions so that they can be used by anybody.
The life-saving medical device is particularly welcome given the school's rural setting in open countryside at Worthen, approximately ten miles from Shrewsbury.
Headteacher Beth Rowe said, "We'd like to say a big thank you to everybody at Hartshorne. It's reassuring to know that we have a defibrillator on site, which is important given our rural location."
Long Mountain is the eighth school in the region to receive a heart defibrillator from Hartshorne Group, which supplies and services Volvo commercial vehicles throughout the Midlands.
Ian Middleton, Managing Director at Hartshorne, said, "It was a pleasure to visit the school and meet with the pupils and staff. A former colleague of Hartshorne, David Fletcher, has two children at the school. David has stayed within the Volvo Truck network so it is fantastic to be able to support Long Mountain school." We are well aware of its importance to the local community."
Hartshorne Group, which operates a major depot in Shrewsbury, launched its Healthy Heart Campaign in conjunction with West Midlands Ambulance Service.
The company donates £1 towards defibrillators for every hour of physical exercise that staff record via an app. Customers can make donations when they make use of the firm's eye-catching Healthy Heart Campaign demonstrator trucks. In addition to Shrewsbury, Hartshorne operates depots at Alfreton, Birmingham, Burton, Potteries (Newcastle-under-Lyme), Walsall and Nottingham.