Help and Support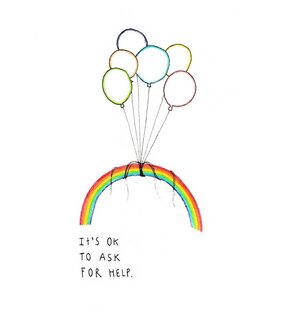 Help for adults and families:
There are a wide range of support services available for children, young people, adults and families. We are all aware that the last two years have brought particular challenges and that people may be in need of a helping hand. Please get in touch with us, if you need extra support - we will treat any enquiries in strictest confidence and will do our best to find a way to help.
Below is a list of useful websites and helpline numbers that may be useful:

Experiencing financial hardship
Please contact us in confidence. We will seek to put you in touch with services who can help.
Support with housing/homelessness: Housing Options - https://www.shropshire.gov.uk/housing-options-and-homelessness/ or SUSTAIN consortium - 0300 300 0059 or 01743 285159

Support for SEND children and families:
https://www.shropshire.gov.uk/the-send-local-offer/social-care/short-breaks/all-in-programme/
Bereavement Support
Shropshire is offering free bereavement support and counselling for anybody living, or working in Shropshire.
If you need support or know someone who might benefit from this service, please pick up the phone.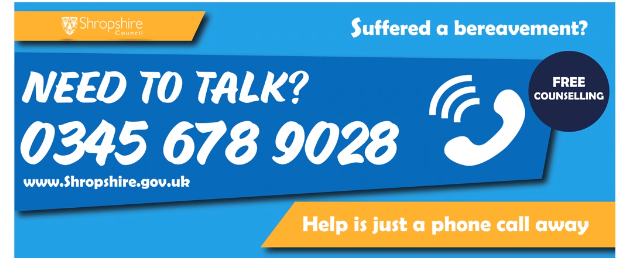 Support for Adult Mental Health:
–IAPT – Psychological Therapies can support people with mild to moderate mental health issues such as anxiety or low mood. Includes Silver Cloud online therapy, https://www.mpft.nhs.uk/services/improving-access-psychological-therapies-iapt or 0300 123 6020

–See Shropshire Council wellbeing pages for more links - https://shropshire.gov.uk/coronavirus/information-for-the-public/mental-health-and-wellbeing/

–Shropshire MIND - Shropshire Mind provides support for any person with emotional or mental health needs, including long term enduring mental health needs or those triggered by recent incidents. Telephone: 01743 368647, Monday to Friday 9am to 5pm; Saturday and Sunday 11am to 3pm. Outreach support is available Monday to Friday 9am to 5pm.

–TogetherAll - a free-to-access online community for Shropshire residents aged 16 and above for people who are stressed, anxious or feeling low. The service has an active forum with round-the-clock support from trained professionals. You can talk anonymously and confidentially to other members https://togetherall.com/en-gb/

– Every Mind Matters provides clear advice and actions to take care of your mental health and wellbeing. The Mind Plan tool helps you create a personalised list of ideas to improve your mental health.

Support for young carers – simon.jones@crossroadstogether.org.uk

Domestic abuse - https://www.shropsdas.org.uk/ or WMWA 0800 783 1359 or national helpline 0808 2000 247

Substance misuse - https://www.wearewithyou.org.uk/services/shropshire/
Understanding Your Child
Understanding Your Child is a parenting course delivered over ten weeks, two hours per week. It's intended for parents and carers who want to know more about sensitive and effective parenting. It aims to develop a framework of thinking about parent/child relationships, which can be developed into a lifelong skill. This in turn promotes behaviour management.

This course is very well received and provides valuable insights into child development and behaviour.
​
For more information please contact:
parenting.team@shropshire.gov.uk
or phone 01743 250950 for further details.
​You can complete this course for free online at https://inourplace.co.uk/ with code DARWIN18
BEAM
Beam is a multi-disciplinary team made up of therapists, youth workers and wellbeing volunteers. Their aim is to provide children and young people under 25, their parents and professionals, with advice, signposting and support with any concerns relating to mental and emotional wellbeing.

Any young person who is under 25 and registered with a GP in Shropshire or Telford & Wrekin can access support from Beam. There are no referrals and no waiting lists so young people can access support when they want and need it. You can find out more information using the website link and within the Beam leaflet below.
Beam Website: ​BEAM | Shropshire Council